Nexans ref. JSF4GLBK100 - Country ref. 4775
Packaging:

Spool (100m)

Conductor cross-section:

4 mm²

Stranding (No./mm):

56/0.30

Nominal Overall Size (mm):

5.0 x 10.4

Approximate weight:

0.12 kg/m

Max. DC resistance of the conductor at 20°C:

4.95 Ohm/km

Voltage drop single phase at 45°C:

10.9 mV/A.m
Nexans ref. JSF6GLBK100 - Country ref. 6923
Packaging:

Spool (100m)

Conductor cross-section:

6 mm²

Stranding (No./mm):

81/0.30

Nominal Overall Size (mm):

6.0 x 12.5

Approximate weight:

0.16 kg/m

Max. DC resistance of the conductor at 20°C:

3.3 Ohm/km

Voltage drop single phase at 45°C:

7.25 mV/A.m
Description
Description
Standards
International

Manufacturer specification
Application
Making garden wiring simple and economical. Gardolex is a robust PVC sheathed extra low voltage power cable for projects of all sizes. The construction has been specifically engineered for outdoor AC/DC lighting applications with a durable, water resistant PVC sheath and is available in six conductor sizes depending on the number of lights, wattage and cable length you require. The graphs will help you find the cable and transformer rating that's appropriate for your project. If unsure, ask your consultant or reseller for advice.
Note: this cable is non divisible
Which cable is best for you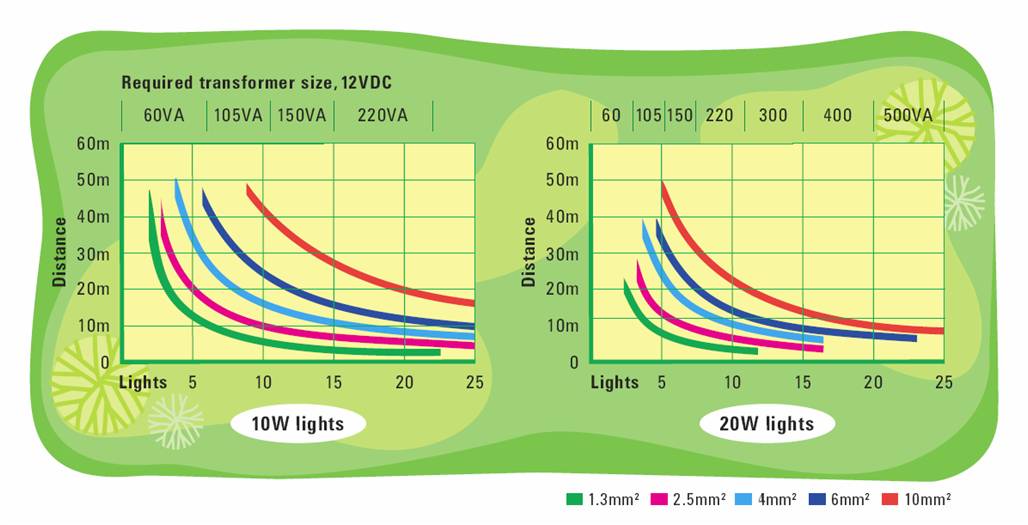 Work out which cable is best for your needs.
Characteristics
Characteristics
Construction characteristics
Construction characteristics
Dimensional characteristics
Dimensional characteristics
Electrical characteristics
Electrical characteristics
Maximum operating voltage
Usage characteristics
Usage characteristics
Maximum operating temperature
Our websites
Select your country to find our products and solutions